Are you a WHOLESALER? Looking to Expand your WHOLESALE inventory? You've came to the RIGHT PLACE!!No Fees, No Handling charges, No nonsense, Just Pure Profits
**PLEASE NOTE: WE DO
NOT
DROPSHIP SINGLE PIECES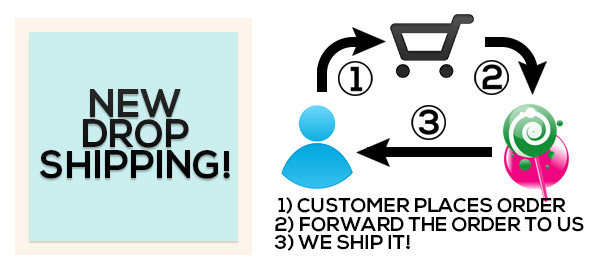 How our drop ship program works.
Our Drop Ship program is specifically targeted to generate profit for you, the wholesale clothing suppliers. Being a wholesale clothing drop shipper , Apparel Candy offers to your clients the latest and newest fashion trends available in the marketplace.

Drop Ship a great way for resellers to generate and earn income without the overhead costs of warehousing, employees, inventory, and other business necessities.The process of drop shipping very simple, the owner of a business (you) has goods shipped directly from their own wholesaler (Apparel Candy) to their customers (your customers). Drop shipping has became a hot market in recent years. Many online sites today use drop shipping services due to the ease of operation and minimal overhead costs.

For example, lets say you start a website selling our products and market it to your customers. One day your customer Stacey places an order of several dresses off your site and pays you with a credit card. You then log into Apparel Candy, place the exact order your customer placed, pay for the order and Apparel Candy then drop ships the order to Stacey with your return address and information on the box. There is no way of Stacey knowing the dresses came from Apparel Candy.

How to get started drop shipping.
First we suggest putting up our items on your website, or any sales channels you have both online and offline ( telemarketing, fliers, emails, etc).
Once you have your online shop set and ready to operate, it's time to market the site and generate sales. When you start receiving sales, you will collect customer's information and funds (including shipping and handling fees if you choose to). Common methods of online payments include: Visa, MasterCard, American Express, Discover Card, and PayPal. You can also choose to accept checks and money orders, that is totally up to you.

How to process drop ship order through Apparel Candy.
Log onto ApparelCandy.com and browse for the items your customer has purchased. Once you are finished finding and placing the items in your shopping card, proceed to checkout. If you don't already have an account with us, sign up for an account (free of charge) and simply fill out the Billing (your information) and Shipping (your customers information) sections and proceed to pay for the order (make sure the billing address is the same as your credit cards). Make sure to check off the Drop Ship box we do NOT include any of our information on the package.
Once the order has been successfully submitted, you can always send an email to DS@ApparelCandy.com to attach any invoices you would like us to send along with your order. All drop ship orders will have no mention of Apparel Candy. Please make sure you email us promptly after the order is placed, because we do tend to process orders right away.
Use of Apparel Candy pictures and information. Apparel Candy is more than glad to help our customers build up their businesses by allowing the FREE use of our pictures and information. If you have any questions about our dropship program, please email us at DS@ApparelCandy.com.
Shipping Charges

$9.95 flat rate will be charged. These shipping charges are valid for shipments within the continental U.S. Shipping fees on all other locations will based on the weight of the items, as well as the location.